Western Digital drive winchester floppy isa card 61-600099-05 WD1006V-SR2 WD MFM card
RESOURCES PAGE
ISA Card interface hard disk MFM - resources page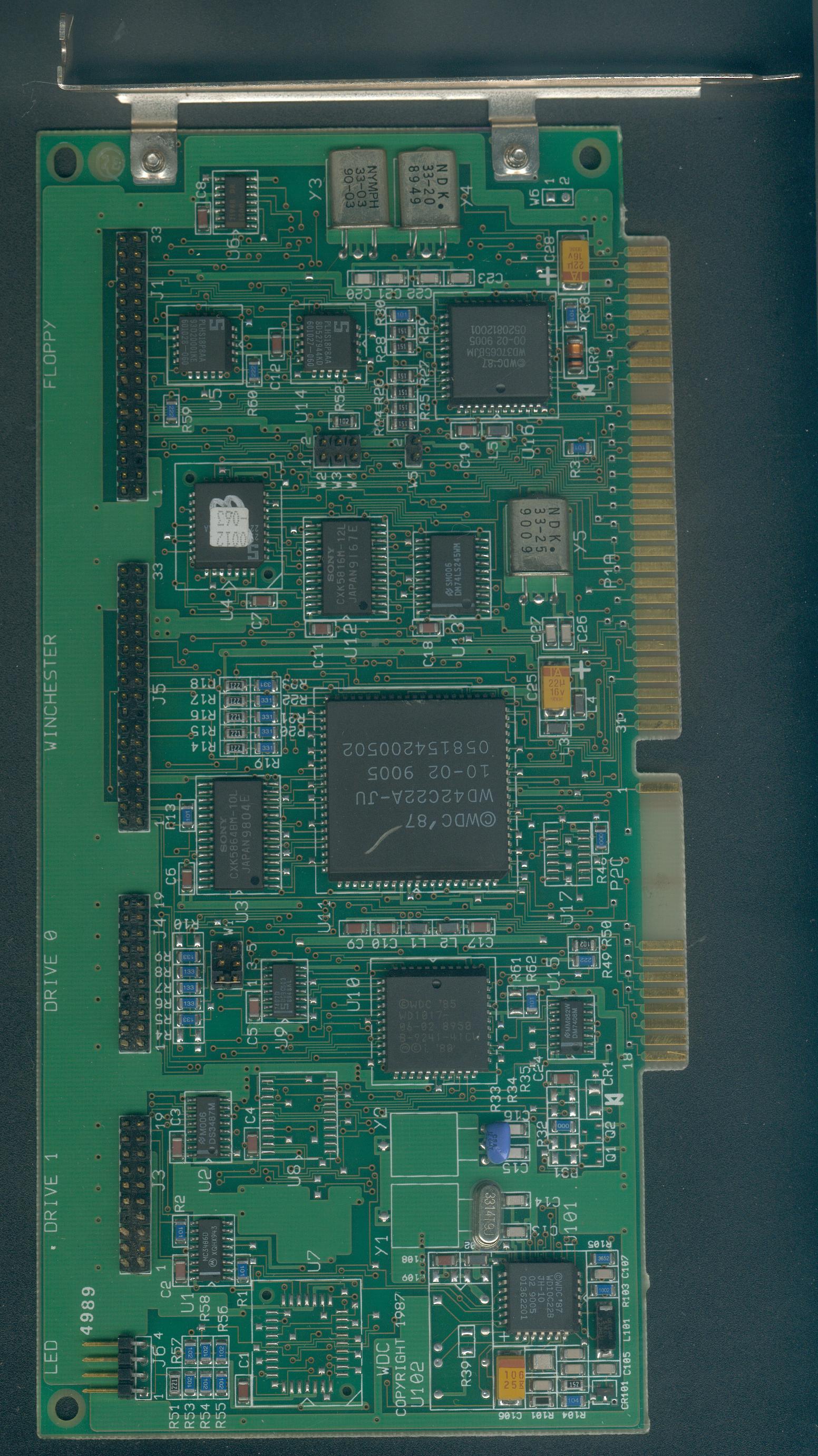 WD42C22A-JU (plcc-68)
WD37C65BJM (plcc-44) floppy controller
WD10C22B (plcc-28)
Eprom (plcc-32rect) 0012-063
Sony CXK5864BM-10L
Sony CXK5816M-12L
DM74LS245WN
DM7406M
2x Signetics (plcc-20) PLHS18P8AA pals
National DS3487M (SO-16)
Motorola MC3486D
Signetics 7407D
Crystals NDK33-20, NYMPH 33-03, NDK 33-25, 3314T9J
ceramic crystal
******
Users Manual (PDF- 6 pages- 161Kb)
http://avitech.com.au/?page_id=1524 MFM Hard Drive on Pentium II PC
http://avitech.com.au/?page_id=2060 MFM Hard Drives
restoring vintage Soviet MFM Hard disk drives. Most famous of them, called SM5508 (??5508) used MC68705P3 chip.
Most of Soviet MFM Hard Drives were just replicas of American units. Of course they all work with WD MFM cards. Same protocols and signals. Sometimes they even used western parts.
You can see some pictures ot this page. Sorry but text is in Russian.
http://it-history.ru/index.php/%D0%9E%D1%82%D0%B5%D1%87%D0%B5%D1%81%D1%82%D0%B2%D0%B5%D0%BD%D0%BD%D1%8B%D0%B5_%D0%B6%D1%91%D1%81%D1%82%D0%BA%D0%B8%D0%B5_%D0%B4%D0%B8%D1%81%D0%BA%D0%B8
I use WDC WD-1003V-WA2 (full size 16 bit ISA board. old and slow) and WDC WD1003V-MM2 (newer smaller faster board).
If you look forward for other information about this VS4800 eprom programmer cards, do not hesitate to contact me by e-mail at: matthieu.benoit@free.fr . Also if you have any data about this programmer, do not hesitate to contribute to this page.
Si vous recherchez des informations pour ce programmateur VS4800, vous pouvez me contacter par e-mail : matthieu.benoit@free.fr . De même si vous avez des informations sur ce programmateur, n'hésitez pas à contribuer à cette page.
Retour au sommaire
Retour à la Page d'accueil
M-à-j: 22 avril, 2020.