Elan Digital Systems 4000 Series devices Programmer
resources page
Programmateur de composants Série 4000 de ELAN

here download the Elan 4000 Series Manual (6 pages / Archive size 2.62 Mbytes)
other ELAN Documents
5000series (PDF - 5.94Mb - 4 pages)
ELAN Shortform in color (PDF- 6.83Mb - 6 pages)

base5000 (PDF- 1.28Mb 2 pages)
here download the software Exfile to communicate with a PC via the RS232. (ZIP Archive - 190 Kb)
here Télécharger la version française LGPROG du programme de communication avec le programmateur ELAN (ZIP Archive - 176Ko)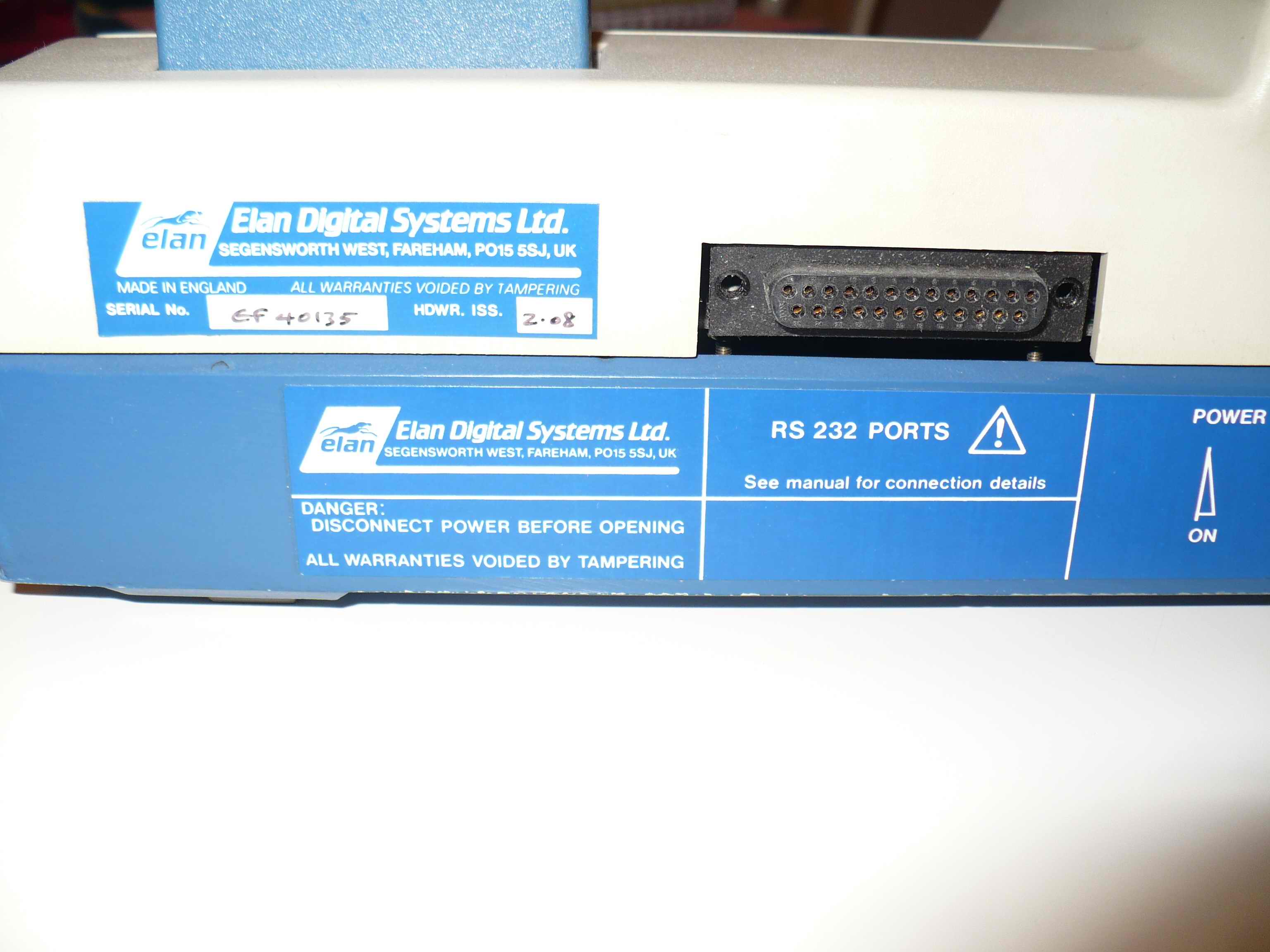 The programmer 4000 series is composed of
- 1 unit including Keyboard, display , and a cartridge for future revisions
- 1 ZIFPAC including the ZIF Connectors
2 ZIFPACS are available
932 with a 32-pins Socket 1 for master and 8 copies sockets 28 and 32 pin
940 with one Socket 40 pin for master and 8 sockets 40 pins for 40-pins EPROM
Selecting the devices :
Identify the manufacturer and the exact part number, Press the key SELECT Device
the display indicates un manufacturer and a part number
select the manufacturer with step <- ->
select the partnumber with upper and down key
validate with ENTER
Selecting a compatible EPROM
Press 2 times on SELECT DEVICE
Press Step <- -> Select variant and a part number press <- -> to get equivalent memories to the first part number.
Be Carefull for example NEC UPD27C256D has to be programmed with a voltage of 21 Volts while the NEC UPD27C256AD has to be programmed with a voltage of 12.5V . Such an error of selection would damage the EPROM.
Function Keys
READ Calculate and display the checksum of the master
PROGRAM Program form the master Socket the programming cycle includes a blank test, programming with the correct algorithm, verify and checksum display
Blank Blank test
VERIFY verify the copies
If you look forward for other information about this ELAN Devices Programmer, do not hesitate to contact me by e-mail at:
matthieu.benoit@free.fr
.
Important Notice: Also if you have any data about this programmer, adapter diagrams, do not hesitate to contribute to this page.
Si vous recherchez des informations pour ce programmateur, vous pouvez me contacter par e-mail : matthieu.benoit@free.fr . De même si vous avez des informations sur ce programmateur, n'hésitez pas à contribuer à cette page.