Compaq Deskpro EN sff
resources page
(c) 1999 Compaq
Intel Pentium III
small form factor
WIN98SE / Windows 2000 Professional
hp.com home
serial 6S1AFHGZV062
Rom 686P2 v2.11
Designed by Compaq engineers in Houston Texas
it includes 2 serial RS232 ports , built-in sound card interface, parallel port , network rj45 port , 2 usb ports, 1 vga ps/2 mouse & keyboard - 3x PCI Slots riser card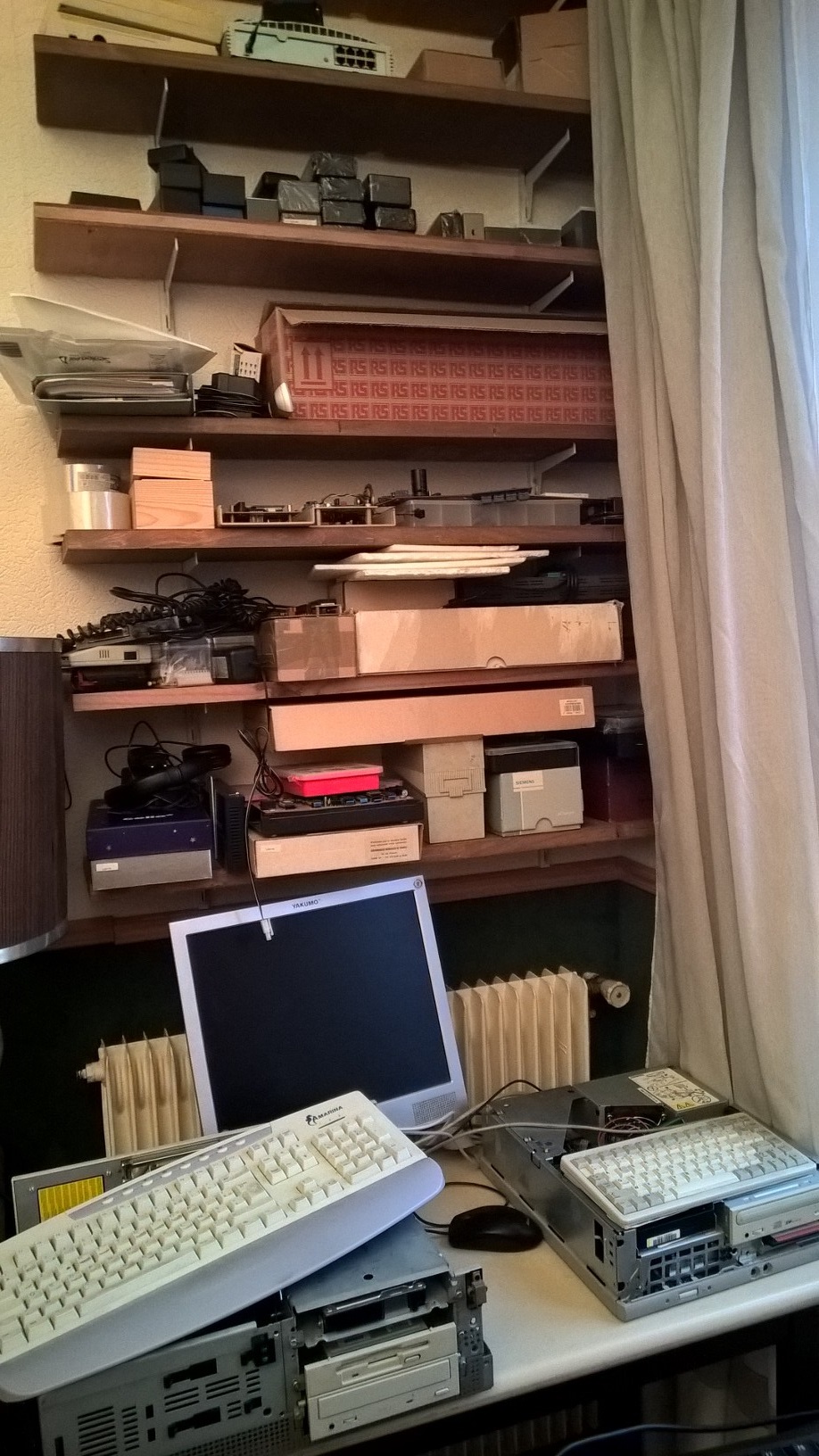 http://web.archive.org/web/20010127154800/http://www5.compaq.com/support/files/desktops/fr/family/16.html
http://cwcyrix.duckdns.org/ftp-archives/ftp.compaq.com/pub/softpaq/
Intel 3D Direct Graphics Video Driver For Windows 95/98/ME ftp://ftp.hp.com/pub/softpaq/sp16501-17000/sp16519.exe
sp16519.txt
Intel PRO/100 VM Network Connection Drivers for Windows 95/98 ftp://ftp.hp.com/pub/softpaq/sp14501-15000/sp14705.exe
sp14705.txt
Compaq/ADI SoundMax Integrated Digital Audio for Win 98SE/2000 ftp://ftp.hp.com/pub/softpaq/sp15001-15500/sp15082.exe
sp15082.txt
Compaq/ADI SoundMax Integrated Digital Audio for Windows 9x ftp://ftp.hp.com/pub/softpaq/sp15001-15500/sp15083.exe
sp15083.txt
Intel Chipsets
Linux version 2.6.4-52-default (geeko@buildhost) (gcc version 3.3.3 (SuSE Linux)) #1 Wed Apr 7 02:08:30 UTC 2004
BIOS-provided physical RAM map:
 BIOS-e820: 0000000000000000 - 000000000009fc00 (usable)
 BIOS-e820: 000000000009fc00 - 00000000000a0000 (reserved)
 BIOS-e820: 00000000000e0000 - 0000000000100000 (reserved)
 BIOS-e820: 0000000000100000 - 000000000bed0000 (usable)
 BIOS-e820: 000000000bed0000 - 000000000bef0000 (ACPI NVS)
 BIOS-e820: 000000000bef0000 - 000000000bf00000 (usable)
 BIOS-e820: 00000000feea0000 - 0000000100000000 (reserved)
822MB vmalloc/ioremap area available.
0MB HIGHMEM available.
191MB LOWMEM available.
On node 0 totalpages: 48896
  DMA zone: 4096 pages, LIFO batch:1
  Normal zone: 44800 pages, LIFO batch:10
  HighMem zone: 0 pages, LIFO batch:1
DMI 2.3 present.
ACPI: RSDP (v000 COMPAQ                                    ) @ 0x000e0010
ACPI: RSDT (v001 COMPAQ CPQ0004  0x20010405  0x00000000) @ 0x000e0080
ACPI: FADT (v001 COMPAQ SOLANO   0x00000001  0x00000000) @ 0x000e0130
ACPI: SSDT (v001 COMPAQ CORE_UTL 0x00000001 MSFT 0x0100000d) @ 0x000e136c
ACPI: SSDT (v001 COMPAQ VILLTBL1 0x00000001 MSFT 0x0100000d) @ 0x000e14e0
ACPI: MADT (v001 COMPAQ SOLANO   0x00000001  0x00000000) @ 0x000e01a4
ACPI: SSDT (v001 COMPAQ     APIC 0x00000001 MSFT 0x0100000d) @ 0x000e3277
ACPI: SSDT (v001 COMPAQ PNP_PRSS 0x00000001 MSFT 0x0100000d) @ 0x000e2380
ACPI: SSDT (v001 COMPAQ       S3 0x00000001 MSFT 0x0100000d) @ 0x000e2a8b
ACPI: SSDT (v001 COMPAQ   PIDETM 0x00000001 MSFT 0x0100000d) @ 0x000e2c1f
ACPI: SSDT (v001 COMPAQ     GTF0 0x00000001 MSFT 0x0100000d) @ 0x000e2e83
ACPI: SSDT (v001 COMPAQ   SIDETM 0x00000001 MSFT 0x0100000d) @ 0x000e2d51
ACPI: SSDT (v001 COMPAQ     GTF3 0x00000001 MSFT 0x0100000d) @ 0x000e317a
ACPI: DSDT (v001 COMPAQ     DSDT 0x00000001 MSFT 0x0100000d) @ 0x00000000
ACPI: PM-Timer IO Port: 0xf808
ACPI: local apic disabled
Built 1 zonelists
Kernel command line: root=/dev/hda4 desktop resume=/dev/hda3 splash=silent
bootsplash: silent mode.
Initializing CPU#0
PID hash table entries: 1024 (o?????????Linux version 2.6.4-52-default (geeko@buildhost) (gcc version 3.3.3 (SuSE Linux)) #1 Wed Apr 7 02:08:30 UTC 2004
BIOS-provided physical RAM map:
 BIOS-e820: 0000000000000000 - 000000000009fc00 (usable)
 BIOS-e820: 000000000009fc00 - 00000000000a0000 (reserved)
 BIOS-e820: 00000000000e0000 - 0000000000100000 (reserved)
 BIOS-e820: 0000000000100000 - 000000000bed0000 (usable)
 BIOS-e820: 000000000bed0000 - 000000000bef0000 (ACPI NVS)
 BIOS-e820: 000000000bef0000 - 000000000bf00000 (usable)
 BIOS-e820: 00000000feea0000 - 0000000100000000 (reserved)
822MB vmalloc/D-R/RW CD-MRW drive, 2048kB Cache
Uniform CD-ROM driver Revision: 3.20
SCSI subsystem initialized
st: Version 20040318, fixed bufsize 32768, s/g segs 256
BIOS EDD facility v0.13 2004-Mar-09, 1 devices found
eth0: no IPv6 routers present

3x PCI Slots riser card
164218-001 15051-T1-REV A
+Audio Aux+SCSI Led + NIC SOS+Aux Audio Compaq (c) 2001 SFF RISER BD
SP#24470-001 P473A0A9VM8X70 AS#011450-001 Rev.0A DG#011451-000
REQ/GNT Header
motherboard CR2032 backup lithium Cell on socket
hard disk unit Quantum Fireball(tm) EX 3.5 Series Windows 98SE
hard disk hitachi 40Gb Windows XP/Linux Suse 9.1
hard disk unit 80 Gb recognised as 32 Go with 15Gb win98se
floppy disk 3.5"
cd-rom 52X

FDD 1.44MB FD1231T-409 COMPAQ P/N 176137-B70
Nec Corporation FD1231T date 2001.7 P/N 134-506790-409-3 S/N DELM17LM1201 3892A700
Replace with Compaq Spare Diskette Drive M3 B/Less Opal (191714-001)
chip U1 PQFP-52 FDN305 116A257
pcb Nec G7EQV 0-1
134-650333-0-1 01-010620Z2 G7EQX
FDD 1.2Mb 5"1/4 : for a reason I ignore when connecting a Canon MD_5501 5"1/4 floppy drive on the compaq deskpro EN computer, floppy allow to read 1.2Mb floppies but cannot work with 360Kb floppies, while the drive is ok for that on another computer.

Win98SE hard disk unit Quantum Fireball tm CR 3.5 series power 5/12V 650/720mA 4.3AT P/N CR43A013 Rev 01-B
Panasonic AN8427FBP
Quantum 14-113271-02 (Texas Instruments)
Lucent Quantum MS241C 27
Sanyo LC384161CT-12
Corona MP
Windows XP / Linux Suse 9.1 hard disk unit Hitachi Deskstar tm 41.1Gb P/N 07N9218 LBA 80.418.240 Sectors CHS:16383/16/63
40gb date 28/08/2003
CD-ROM DRIVE model : CRD-8402B 5V 0.9A 12V/ 1.5A replace with Compaq Spare 400807-001
CRD-8402B (CP6) OPAL STYLE 3
manufactured: July 2000
F/W 1.01
H/W: A
MECHA:A

modem PCI card HP P/N:5187-5208 REV A
agere SV92PL-T00 SV 0440S 3014224 (c) 03 agere
Approved by UACLAB Emirates Telecom Lab
LITE-ON D-1156I#/A1A complies with IDA standards DB02133 TELEPERMIT This LITE-ON D-1156I#/A1A Modem may be connected to the Telecom Network 3.3Vdc ,16mA
Made in China B-1156#/A1A KB5817 04/03
Y1A crystal 24.5 w6RF Txc



If you look forward for other information about this topic, do not hesitate to contact me by e-mail at: matthieu.benoit@free.fr .
Important Notice: Also if you have any data about this topic, do not hesitate to contribute to this page.
Si vous recherchez des informations pour ce sujet, vous pouvez me contacter par e-mail : matthieu.benoit@free.fr . De même si vous avez des informations sur ce sujet, n'hésitez pas à contribuer à cette page.
Retour au sommaire
Retour à la Page d'accueil
M-à-j: 17 octobre, 2021
matthieu.benoit@free.fr