Devices Programmer Stag Orbit 48
Programmateur Stag Orbit 48

Stag Orbit 48 portable programmer resources page
Battery always 'Boosting'
Connect Error when trying to read a device.
Old battery pack

For the 'Boosting' issue, I've found the fault lies with an NEC upd71055GB PIO, the one nearest to the sounder. One port pin is used as an input for the fast charge signal coming from the MAX713. The default state for this IO line is high, so the unit should think that the battery isn't being fast charged unless told otherwise by the MAX713. On my unit the pin P2_4 is open circuit, I used a curve tracer to find this. Replacing this has cured the problem.
I found that if the DC input voltage was less than 12.1V I always got a 'Connect Error' when trying to read a device. Raising the voltage level slightly will cured this.
Battery pack leakage. The electrolyte leaks from the cells and wicks up the wires corroding the battery connector and nearby pcb tracks. Luckily mine wasn't too bad and I only had to clean the pcb up. The battery pack is 7 x 600 mAh AA cells.

Stag Orbit 48 devices List (PDF-13 pages- 56 Kb)
orbit48.dat device list Version 29.00 (.dat - 19Kb)

Stag Orbit 48 Manual (PDF - 42 pages - 817 Kb)

Stag Orbit 48 documentation Commercial Brochure (PDF -3 pages - 189Kb)
Stagcom+ (1.02) is also a Windows version, slightly later and dated 2003

StagCom95 (5.90.95) Windows version dated 2002
StagCom95 and StagCom+ support Eclipse, Orbit32, Orbit48, P301, P800, P801, P803 & Solar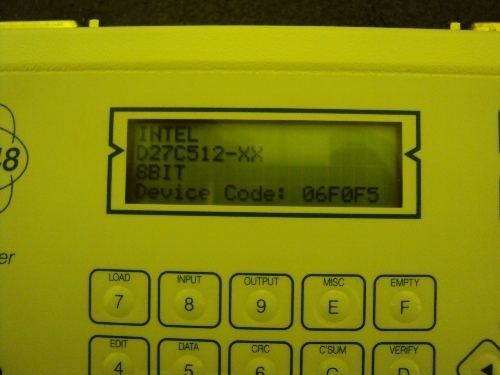 Features:
Device support for MICROs, EPROMs, EEPROMs, FLASH & CMOS PROMs
Optional EPLD Docking Module
Serial EEPROMs and 'Intel' style Micros as standard
Wide blade 48 pin DIP socket takes 0.3" to 0.6" pitch devices
Fitted with 4 Mbits RAM expandable up to 16 Mbits
Operational simplicity with custom designed keypad and high contrast SuperTwist LCD
Ultra low profile design ensures Orbit 48 will fit easily into one half of a standard briefcase
Device library held in non-volatile FLASH memory
Surface Mount Construction for reliability
Emulates 8-bit and 16-bit devices as standard with optional buffered cable
Emulation with Stag's unique 'Edit While You Run' feature – now there's no need to turn off the target system in order to edit data.
lcd display inside the programmer manufacturer Varitronix part number MDLS20464K
http://www.varitronix.com/product/index.php?option=com_content&view=article&id=36&Itemid=60
35

20 x 4

MDLS20464BD

1/16

0.42 x 0.46mm

0.47 x 0.51mm

60.0 x 22.0mm

77.0 x 47.0mm

36

20 x 4

MDLS20464BSP

1/16

0.42 x 0.46mm

0.47 x 0.51mm

60.0 x 22.0mm

77.0 x 47.0mm

37

20 x 4

MDLS20464D

1/16

0.50 x 0.50mm

0.60 x 0.60mm

76.0 x 25.2mm

98.0 x 60.0mm

38

20 x 4

MDLS20464SP

1/16

0.50 x 0.50mm

0.60 x 0.60mm

76.0 x 25.2mm

98.0 x 60.0mm
Stag Orbit48 power supply model - 481250 ECOPAC POWER is a 12Volts DC @ 500mA 6VA (+)- power supply
Stag Orbit48 motherboard <click to enlarge>
******
If you look forward for other information about this STAG Programmer, do not hesitate to contact me by e-mail at: matthieu.benoit@free.fr . Also if you have any data about this programmer, do not hesitate to contribute to this page.
Si vous recherchez des informations pour ce programmateur autonome, vous pouvez me contacter par e-mail : matthieu.benoit@free.fr . De même si vous avez des informations sur ce programmateur, n'hésitez pas à contribuer à cette page.
******

Retour au sommaire
Retour à la Page d'accueil
13 mars, 2019
matthieu.benoit@free.fr