Devices Programmer Orbit 48
Programmateur Stag Orbit 48

Orbit 48 portable programmer resources page

Stag Orbit 48 devices List (PDF-13 pages- 56 Kb)
orbit48.dat device list Version 29.00 (.dat - 19Kb)

Stag Orbit 48 Manual (PDF - 42 pages - 817 Kb)

Stag Orbit 48 documentation Commercial Brochure (PDF -3 pages - 189Kb)
Stagcom+ (1.02) is also a Windows version, slightly later and dated 2003

StagCom95 (5.90.95) Windows version dated 2002
StagCom95 and StagCom+ support Eclipse, Orbit32, Orbit48, P301, P800, P801, P803 & Solar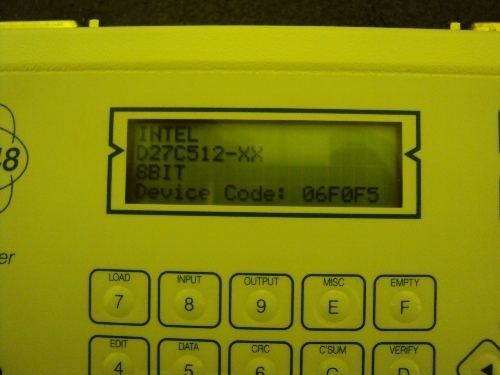 Features:
Device support for MICROs, EPROMs, EEPROMs, FLASH & CMOS PROMs
Optional EPLD Docking Module
Serial EEPROMs and 'Intel' style Micros as standard
Wide blade 48 pin DIP socket takes 0.3" to 0.6" pitch devices
Fitted with 4 Mbits RAM expandable up to 16 Mbits
Operational simplicity with custom designed keypad and high contrast SuperTwist LCD
Ultra low profile design ensures Orbit 48 will fit easily into one half of a standard briefcase
Device library held in non-volatile FLASH memory
Surface Mount Construction for reliability
Emulates 8-bit and 16-bit devices as standard with optional buffered cable
Emulation with Stag's unique 'Edit While You Run' feature – now there's no need to turn off the target system in order to edit data.
******
If you look forward for other information about this STAG Programmer, do not hesitate to contact me by e-mail at: matthieu.benoit@free.fr . Also if you have any data about this programmer, do not hesitate to contribute to this page.
Si vous recherchez des informations pour ce programmateur autonome, vous pouvez me contacter par e-mail : matthieu.benoit@free.fr . De même si vous avez des informations sur ce programmateur, n'hésitez pas à contribuer à cette page.
Retour au sommaire
Retour à la Page d'accueil
11 août, 2016
matthieu.benoit@free.fr