Stag System 3000 Universal Programmer
Programmateur Stag System 3000

system 3000 resources page
Zm3000
The software to be used with the System 3000 is
Stag Com3 (ZIP Archive- 108Kb)
corrected PROM.DAT file Enclosed please find a corrected Stagcom3 PROM Dat file for the Stag 3000 programmer.Just a simple one character fix.
Mitsubishi Eproms were not listed in the Select Device menu because the "#" was missing before the word Mitsubishi. All the devices were there, just not able to access them because of this. Tested and working now.
Stag System 3000 users manual (PDF - 169 pages - 39.75 Mb)
Commercial brochures:

Stag Product Selection Guide (1Mb - Shift-Click to Download)
Stag Software (792Kb - Shift-Click to dowload) or download the 3 commercial brochures in the
Other.zip archive (ZIP Archive - 1.02Mb)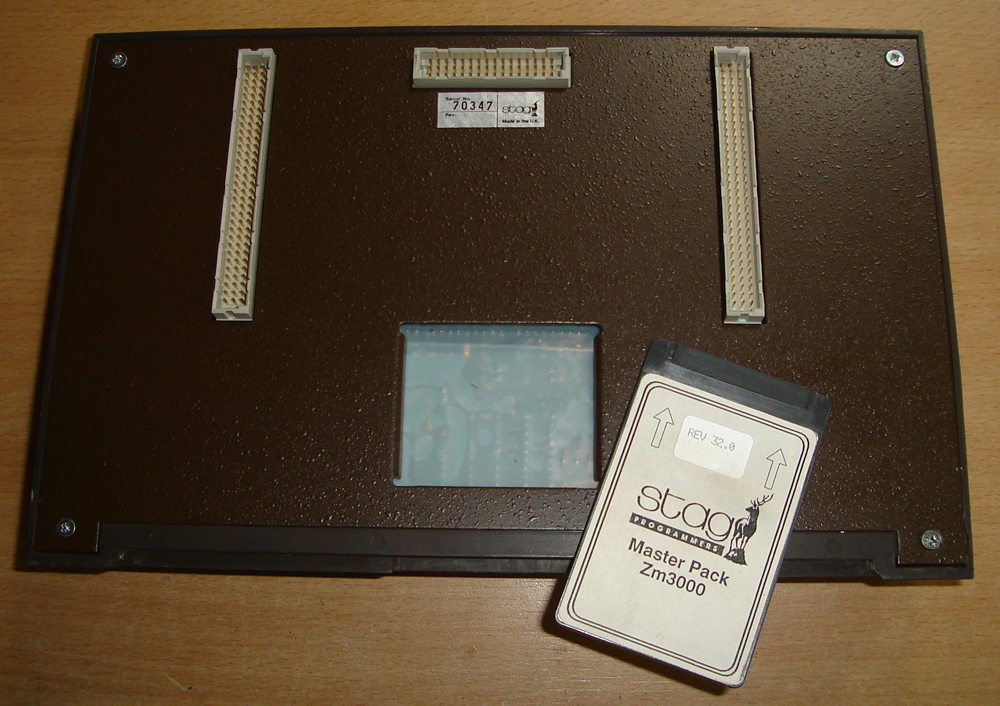 Zm3000a


Master Pack Zm3000
ic26 is the character rom labeled stag chr$ data ic 26 e1ca (the crc matches the file) (.BIN file - 8Kb)
ic43 version 13.0 (.BIN file - 8Kb)
You may see also :
STAG PP39 resources page

STAG PP38 resources page

STAG PP41 resources page
******
If you look forward for other information about this Stag System 3000 Programmer, do not hesitate to contact me by e-mail at: matthieu.benoit@free.fr . Also if you have any data about this programmer, do not hesitate to contribute to this page.
Si vous recherchez des informations pour ce programmateur autonome, vous pouvez me contacter par e-mail : matthieu.benoit@free.fr . De même si vous avez des informations sur ce programmateur, n'hésitez pas à contribuer à cette page.
Retour au sommaire
Retour à la Page d'accueil
8 octobre, 2020
matthieu.benoit@free.fr